It's finally that time -- my favorite TV event of the year (and a close second to arguably my favorite event of the year in general, other than my birthday): The OSCARS! Now that we've all had a moment to digest the 4-hour event in its entirety (and hope you all recorded the following event on your DVRs last night because of how much it ran over!), let's discuss shall we?
First off, I miss the good old days. I miss seeing the class acts. Leo, Halle, Adrien, Scorsese, Kate. It was sad not seeing them but instead watching the red carpet arrivals with the likes of Dakota Johnson (who?) and Jennifer Lopez (really?). Other than being jaw dropped at Margot Robbie's breathtaking black gown I wasn't impressed with anyone else's dresses. Literally just hers.
But let's move on to the main affair -- the show itself. I thought NPH was a joke. Sorry I'm not sorry. I had 0 expectations from him to begin with and therefore was in love with the opening musical number but after that it was pitiful! PSA: Jack Black you are amazing. Always.
Someone please get Steve Martin or Seth McFarlane back on here! His jokes were trying way too hard or barely trying at all. And the hype around that hidden suitcase/ Oscar predictions bit?? Um. Even poor Octavia Spencer looked so awkward every time he'd ask her if she was still keeping an eye on it. Pointless! (Side note: loved that Octavia brought her fellow Red Band Society cast mate along as her plus one. RIP Red Banders).
Other than that, I thought the show itself and the award winners were for the most part pretty well-deserved. It's funny, Birdman was the first of all the Oscar-nominated films that I watched even before it was nominated. I loved it when I watched it in theaters. I just watched it at home this past weekend for the second time with my parents and it seemed lack luster the second time. Sure, the cinematography was on point and super unique, as well the acting. Let the record show, Edward Norton is my favorite actor and he did NOT disappoint in this role. I'm so happy he even got the Best Supporting Actor nod this year. That being said, I don't know how I feel about it winning Best Picture. I'm torn. But Sean Penn's reveal -- gold.
So, I think this was an AMAZING year for film. I don't think I've ever had a year where ALL of the films are solid A's. Even the films that didn't get nominated for Best Picture (Foxcatcher, Nightcrawler, Wild -- all three were movies I'd consider top tier for what I watched this year). I think that's why I kind of wish something else got some more lovin.
I think Alejandro González Iñárritu is amazing. I've said it before but him and Tarantino are my favorite directors of all time. So I am all for his Director win -- BUT, I almost feel like he should have won in this category for his dramas -- not a dark comedy. When you look at what Richard Linklater did with Boyhood over 12 years, that's amazing directing. I don't think people think about how much of a visionary you have to be to brainstorm a project over a timeline like that. On top of that, thinking about the commitment the cast has to agree to and how much they will change over the course of the project. It was as close it could have been to being a documentary, yet had the exact measure of depth it needed to be a wonderful film. It's so sad when I hear people say their only gripe with it was that it "wasn't dramatic enough" -- I can't tell you how many people have said that to me. I feel like that's such a shallow way of looking at film. It's almost exactly like what "Birdman" was telling Michael Keaton at the end of the film: people only care about the action in movies these days. We've been accustomed to grow "bored" when watching a real movie about real life. I think that's what Linklater did so masterfully in Boyhood is depict what actual life is like. And the stages of "boyhood" for an individual. Male or female, I think anyone could relate to this film and what true growing pains are like. That's what I loved about this movie. I wish it got more attention at the Oscar's, but super happy for Patricia Arquette at least!
Another film that I thought was AMAZING this year was Theory of Everything. I didn't expect the film itself to get much hype, but I highly suggest watching to movie to anyone. It was not what I expected. And Eddie Redmayne - WOW. I hadn't even heard of this guy but after this film I was in awe. Most well-deserved award of the night went to him!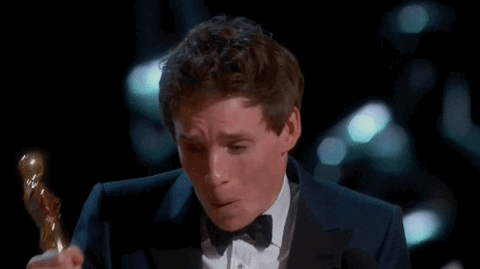 What was my highlight of the night? I never thought I would be saying this, but Lady Gaga's Sound of Music tribute brought me to tears and goosebumps. This is my favorite movie so the fact that they did a surprise tribute was the most exciting thing of life. Lol. Also, new update: Lady Gaga can SING. Woah, Nelly!! I was jaw dropped. She did an amazing job and I have a newfound respect for her. Finally, to top it all off with JULIE ANDREWS gracing the stage. Done. Done. I can stop watching now. It was the best part of the night for me. She always brings a smile to my face. Oh, and .. why don't they make movies like this anymore?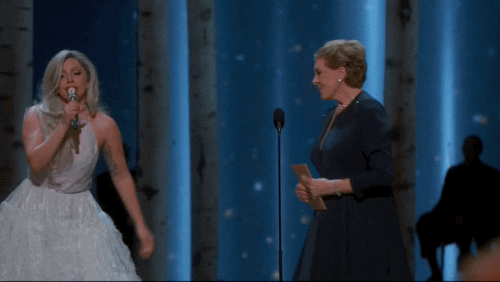 Finally, my favorite category at the Academy Awards is Writing (go figure). So I'm always super stoked to see who wins Best Original Screenplay & Best Adapted. To be honest, I was pretty surprised that Imitation Game won. I haven't seen it or read the book so it could be on point, but it was a bit of a shock to me. Best Original -- Birdman, that was pretty interesting to me as well. Not shocking, as I predicted it, but I feel like reading a script like that wouldn't wow me. It's seeing all the pieces fall into play together on screen with that genius talent in cinematography that made the film what it was. I feel like when it comes to writing, you need something more. I was personally rooting for Nightcrawler, which I thought was genius in its writing. I was blown away by that movie. As creepy as it was, the writing took me to another world. I secretly wish that would have taken home the win.
Other than that, my favorite scream-worthy moments of the night?
- Terrance Howard's acting audition for the whole audience -- and lo and behold he was getting emotional over.... The IMITATION GAME?! I can't explain how hard I laughed at this
- John Travolta's caress of Idina's face (this reminded me of Face/Off and how scary he was)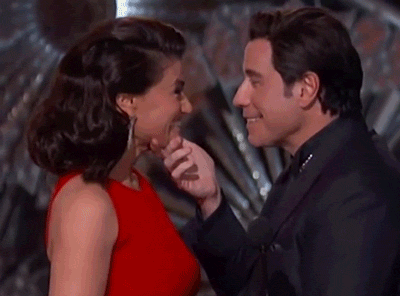 - Learning Common's real name (and that John Legend is a made up name?! Ew. Let down.)
- Common skipping over Oprah when Glory won Best Song, and then going back and hugging her to save face
- Steadmond's face the entire night
- J. Lo being super into Patricia Arquette's female equality speech (relax, bro)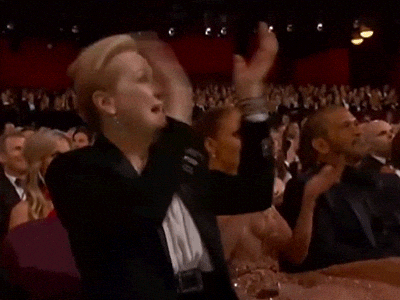 - Finally, poor Ellar Coltrane trying hug Patricia (running from back row!!) and her skipping over him. HAHA poor guy
That's all from me. What did you guys think of this year?!